for Combined Modified SHIRPA and Dysmorphology (CSD)
behavioral and morphological characteristics
マウス観察器具セット<行動・形態特性>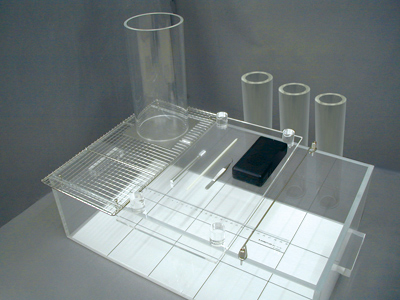 These are tools to observe behavioral and morphological characteristics for Modified-SHIRPA & Combined Modified SHIRPA and Dysmorphology (CSD).
We have a license to produce and provide the same tools as used in RIKEN BioResource Center Technology and Development Team for Mouse Phenotype Analysis (Japan Mouse Clinic), under the instruction of them.
Moreover, we are developing data entry software with Japan Mouse Clinic in order to reduce the time, labor power and mistakes for data registry. The software will be adapted to International Mouse Phenotyping Consortium CSD (IMPC CSD) version.
---
Component
---
---
Observation Traits (CSD-JMC version)
| | | | | | | | |
| --- | --- | --- | --- | --- | --- | --- | --- |
| P1 | Activity (body position) | P27.1 | Upper teeth appearance | P53 | Hindlimb nail number | P79.1 | Skin texture + front paws |
| P2 | Tremor | P28.1 | Lower teeth appearance | P54 | Hindlimb nail length | P80.1 | Skin color + back paws |
| P3 | Transfer arousal | P29 | Salivation | P55 | Hindlimb nail shape | P81.1 | Skin texture + back paws |
| P4 | Locomotor activity | P30 | Vibrissae presence | P56 | Hindlimb digit number | P82.1 | Skin color + tail |
| P5 | Gait | P31.1 | Vibrissae appearance | P57 | Hindlimb digit size | P83.1 | Skin texture + tail |
| P6 | Tail elevation | P32 | Genitalia presence | P58 | Hindlimb digit shape | P84 | Vocalisation |
| P7.1 | Startle response | P33.1 | Genitalia size | P59 | Contact righting | P85 | Aggression |
| P8 | Touch escape | P34 | Genitalia morphology | P60.1 | Coat color + back | P86 | Head bobbing |
| P9 | Positional passivity | P35 | Body tone | P61.1 | Coat color pattern + back | P87 | Unexpected behaviors |
| P10 | Trunk curl | P36 | Limb tone | P62.1 | Coat hair distribution + back | P88 | Body weight |
| P11 | Limb grasp | P37 | Forelimbs – position | P63.1 | Coat hair texture/appearance + back | P89 | BMI |
| P12 | Head size | P38 | Forelimbs – shape | P64.1 | Coat color + head | P90 | Tail ratio |
| P13 | Head morphology | P39 | Forelimbs – size | P65.1 | Coat color pattern + head | | |
| P14 | Snout size | P40 | Forepaw size | P66.1 | Coat hair distribution + head | | |
| P15.1 | Ears | P41 | Forepaw shape | P67.1 | Coat hair texture/appearance + head | | |
| P16 | Toe pinch | P42 | Forelimb nail number | P68.1 | Coat color + abdomen | | |
| P17 | Body length | P43 | Forelimb nail length | P69.1 | Coat color pattern + abdomen | | |
| P18 | Tail length | P44 | Forelimb nail shape | P70.1 | Coat hair distribution + abdomen | | |
| P19 | Tail presence | P45 | Forelimb digit number | P71.1 | Coat hair texture/appearance + abdomen | | |
| P20 | Tail length | P46 | Forelimb digit size | P72.1 | Skin color + whole body | | |
| P21 | Tail thickness | P47 | Forelimb digit shape | P73.1 | Skin texture + whole body | | |
| P22 | Tail morphology | P48 | Hindlimbs – position | P74.1 | Skin color + snout | | |
| P23 | Mouth morphology | P49 | Hindlimbs – shape | P75.1 | Skin texture + snout | | |
| P24 | Upper lip morphology | P50 | Hindlimbs – size | P76.1 | Skin color + ear | | |
| P25 | Lower lip morphology | P51 | Hindpaw size | P77.1 | Skin texture + ear | | |
| P26 | Teeth presence | P52 | Hindpaw shape | P78.1 | Skin color + front paws | | |
---
---
Catalog Download